In late 2021, American synthpop duo Iris shocked the music scene when they revealed they were breaking up. As it turns out, the split was a long time coming for the two members of Iris—Andrew Sega and Reagan Jones—who were experiencing "personal differences."
While many of us expected Iris to go quietly into the sunset, the band once again upended expectations by remaining active on social media and announcing a special edition re-release of one of their best albums, Wrath. The band's third album, originally released in 2005, has been remastered by Andrew for release as a 48-page CD artbook with new artwork, lyrics sheets, live photos, liner notes, and a bonus CD that includes remixes and unreleased tracks.
The deluxe artbook version of Wrath will be released on April 29, 2022. Later this year, Wrath will be available on vinyl for the first time. You can pre-order it here.
I had a chance to chat with Andrew about the band's legacy, the Wrath remaster, and his plans for the future.
When Iris broke up last year, you didn't want to talk about it. It must have been an emotional experience for you?
I had originally thought we were done after Blacklight, as "Cruel Silence" was kinda intended to poetically be the last Iris song. However, we obviously got back together for Radiant and kept things going for a while.
However, when we finished Six, it really felt like it might be the last record. I remember being in Leipzig in 2019, playing at a festival, and after we walked off the stage I was mentally prepared for that to be the last show. So, in a sense, we've been done for a while now—just without announcing it.
We have had our personal conflicts over the years, and sometimes that positively manifested itself in the music. However, now, we finally just reached a point where the "disconnect" between us has grown pretty wide.
Do you want to say anything now about why Iris broke up or clear up any of the rumors going around?
It's not worth rehashing all the drama at this point. We're just very different people now, and there just isn't enough connecting us to be able to make music together.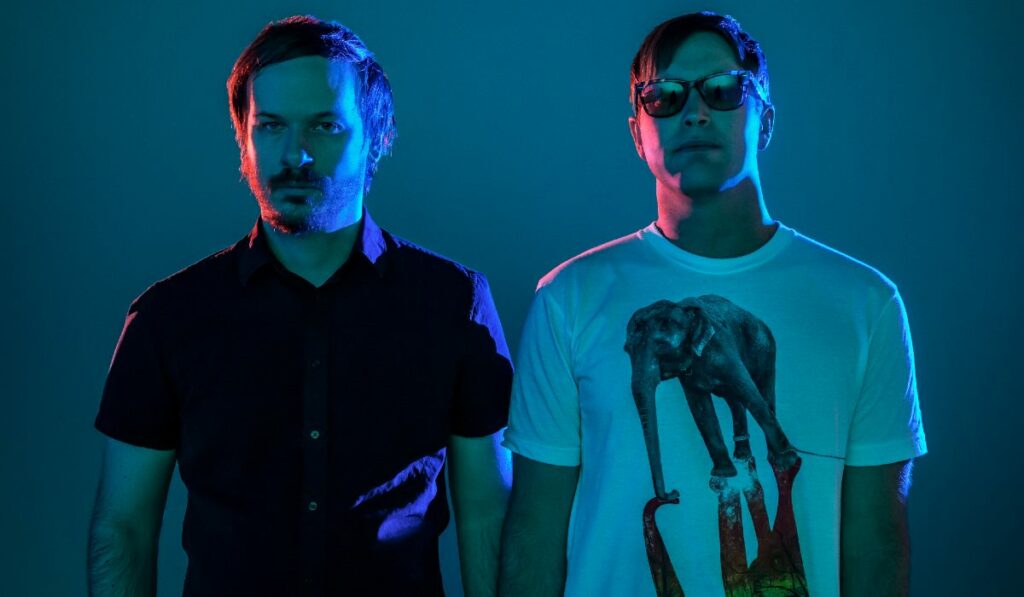 Iris has an incredible legacy—six studio albums, tons of singles, festival appearances, fans all over the world. What would you like most to be remembered for?
We've always been a band that never quite fit into any genre boxes. Too many guitars to be "synthpop," too soft to be EBM, too light to be "gothic," too many synths to be "rock," et cetera. Despite that, we've had quite a lot of success. Our sound has evolved with the times, as we have as people. One thing I'm proud of is that we managed to keep it going at a high level for so long. Usually bands decline as they age, but Six (our last album) was the first one to hit the mainstream German media charts, which is amazing.
As far as being remembered for something, it's hard to choose. Different albums represent different time periods of my life. When I talk to fans after shows, I always hear different things—favorite albums, favorite songs, etc.—and it makes me realize the depth of the catalog. I'm happy that people find any of it meaningful and am grateful to all the fans that have made us part of their lives in some way.
What's your own favorite memory of your time in Iris?
There are so many, it's hard to know where to start. Screwing up our first two shows opening for De/Vision on our first ever EU tour and somehow recovering for the third. Playing a side stage at Arvika in Sweden, watching hundreds of fans come running to the stage right in the middle of our first song. Banging on garbage cans in an alley in Chicago making Blacklight. Trying to sleep on tour buses in Europe to the gentle rolling din of the Autobahn. Playing a show in Volgograd, deep in the heart of Russia. Meeting so many legendary musicians and having some of them become friends. The 20th anniversary show in Philadelphia with [co-founder and original member] Matt Morris on stage. Partying at City Club in Detroit to all hours of the morning. Meeting so many fans with deep, meaningful connections to the band.
Let's talk about the Wrath remaster. Was it planned before Iris split up? Are you and Reagan working on it together?
Stefan Herwig from Dependent has been asking to do re-issues for a while, but it didn't become fully in motion until the breakup. I was responsible for remasters and assembling the bonus tracks. Reagan handled the artwork and photos. Nico has done a great job with the art direction and booklet, which has made the process pretty easy for us.
Of the six Iris albums, why did you choose to remaster and re-rerelease Wrath?
It was actually Stefan's choice. He thought that it would be an interesting first release to test the waters and see how fans would react. It represents a significant transition in style from Awakening and is a bridge to the polished darkness of Blacklight.
What kind of changes will fans hear in the new remaster?
The Wrath original mastering was admittedly not the best, as we didn't focus on it as much as we should. I produced that record in a tiny apartment in Austin, without a lot of fancy equipment or experience. Listening to it again, I wanted to focus on trying to bring more clarity and EQ balance to the songs. These records are old enough that I can't load the original track stems, so it had to be done purely from the original pre-masters.
The remaster comes with an impressive list of features—a hardcover artbook, unreleased tracks, exclusive remixes, liner notes, and other goodies. It's also on vinyl for the first time. Of all those features, which one are you most excited about?
The artbook format is really nice and worth the extra money. We put a lot of time and effort into the visual design, liner notes, photos from the era, and more. And of course the orange vinyl is great, too.
Are you thinking about remastering more of the Iris catalog?
Yeah, it depends a bit on how this one is received. Pre-sales are going well, so I wouldn't be surprised it we do another at some point. Awakening might be interesting, though we'll have to see how much we have left in the vaults from the early days.
Now that Iris is behind you, will you be spending more time with your other projects?
Yes! The desire to make music hasn't left me yet. I now have a luxurious studio in my basement, new guitars and toys, and, well, not quite as much free time as I used to have, lol.
Hallowed Hearts is my new post-punk/goth/whatever project, and it's been doing really well out of the gate. There might be a few other projects in the future, depending on inspiration (a second XYZZY album, perhaps?). Perhaps also some collaborations with other artists. We'll see.
Is the new Hallowed Hearts album still coming this summer? What else can you tell us about that?
I've always wanted to indulge my darker shoegaze influences, and when I started experimenting with Alex Virlios, this turned into our unusual permutation of a "goth" band. It's also a change from Iris, in that I'm doing a lot of the instrumental demos now, which was always Reagan's area previously. The first record and Ruins EP have done really well for us, in no small part due to the community of DJ's on Twitch that have been very supportive during the pandemic.
We had originally planned a new album for summer 2022, which may have been slightly optimistic in retrospect. However, we have many demos in-progress, and we're definitely aiming for something new this year.
Alex is flying out to NYC next month so that we can jam in-person and see what we can turn these into. So far, it's coming along the lines of "Supernova"—a bit more energetic and uptempo, but with our trademark melodic moodiness. We're also playing the Murder of Crows festival in NYC this September, as well as our first EU small festival show in Frankfurt at the end of October.
I recently heard that you used to be part of the live band for Stromkern—I never knew that! Will you be joining them at Cold Waves this summer? Anything else you can tell us about that show?
Ah, yeah, I've done quite a few shows with Stromkern over the years, and I've been friends with Ned ever since I met him at a Seabound/Stromkern tour in San Antonio practically 20 years ago. He's played bass and keys for a lot of Iris shows, and I've returned the favor by playing live keys in Stromkern. I've always loved the band, and they've had their own weird little niche over the years as an industrial/rap/rock/EBM hybrid (with the occasional piano ballad!). Really been fun to help bring some of that chaos to a live stage.
Ned is a very dynamic frontman, and it's a completely different show and vibe from Iris. It took a while, but he was finally convinced to come back for one more string of shows, with the culmination of that being Cold Waves X in Chicago. We'll be playing second to last, which should allow us to bring out a few rarely-heard tracks. This also may very well be the last hurrah for SK, and if so, playing a sold-out Metro is a pretty good way to go!