I'm revisiting the mind.in.a.box catalog prior to the release of their eighth studio album, Black and White, which is due out August 30, 2023. mind.in.a.box is unique in that their albums form part of a cohesive storyline. Let's get caught up.
Background behind Dreamweb
Dreamweb arrived in 2005, exactly one year after mind.in.a.box's debut album, Lost Alone. It's sort of hard to believe how quickly new albums followed each other in the early days. We're used to a five-year wait.
The same team, Stefan Poiss and Markus Hadwiger, worked on Dreamweb. Prior to the album's release, they unveiled miab's first single, a much more aggressive track than we're used to hearing from miab called "Certainty." It came with a handful of remixes and non-album tracks. Incidentally, the "Certainty" cover art remains my favorite of the miab catalog.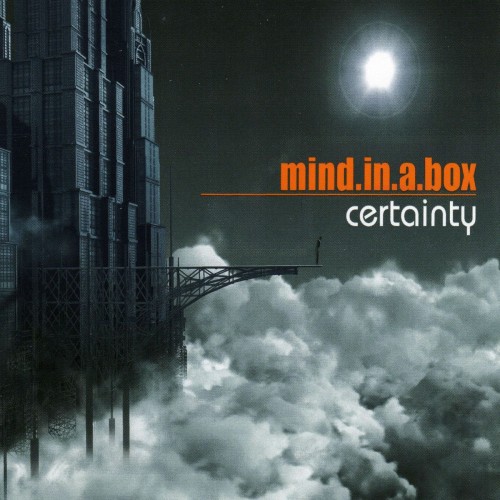 How the mind.in.a.box storyline progresses
Dreamweb picks up where Lost Alone left off and advances the storyline, adding new characters and naming people and places for the first time. The protagonist, having "switched over" on the previous album, is experiencing unsettling dreams, and he's haunted by his past. Someone—a mysterious new character—leaves a tape at his door. Confusion takes hold.
He runs, he explores, he gets lost in his dreams. He speaks frequently of a "you" who stole his dreams and causes him pain. It's not always clear whose POV we're witnessing in these lyrics as Stefan's vocals warp and mutate under the guise of his vocal manipulations. It could be our protagonist, the people following him, the mysterious new figure, or someone else.
The characters converge on a nightclub where the protagonist is looking for a woman who may have information about what happened at the bar where he switched over. He finally sees her and takes chase, down stairs and through corridors, but the music playing in the nightclub becomes a primary factor, filling his mind and driving him mad. He wakes up the next morning in a gutter.
We learn from more evidence tapes that it's been eight months since the protagonist disappeared. The people looking for him have given up—they're now looking for "her." We finally discover the name of one of the characters, White, who appears to be leading the effort to hunt the protagonist.
For the first time, we hear about something called the Dreamweb, presumably the place the protagonist has gone. We don't know much about the Dreamweb, but our character describes it as being suspended between two worlds. He awakens a few days after the incident at the club and recalls running through the rain.
What the critics said about Dreamweb
AllMusic: "Though the album is billed as a continuation of a storyline that began on the duo's debut, Lost Alone, the story—something about some sort of investigator having walking hallucinations while on the trail of a mysterious and beautiful woman—is fragmentary at best, told mostly through snippets of dialogue in the intros and codas of the songs proper, and can safely be ignored. That leaves the music itself, which is invitingly chilly in that special Eurogoth way that only moody Austrian duos can pull off." (Full review)
Dreamweb's standout track
Until this point, mind.in.a.box was a mostly contemplative affair, made for headphone listening. But one of the things Dreamweb made clear is that they can make bangers. Tracks like "Machine Run" and pre-release single "Certainty" amp up the energy for the dancefloor, but my favorite song from Dreamweb is another club-friendly cut called "Sun and Storm." Stabbing electronic noises clash across the song's roiling beat as Stefan sings lines like "And everything I was has turned to pain." It's a nice showcase of mind.in.a.box's ability to create tension from fast and slow parts.