I'm revisiting the mind.in.a.box catalog prior to the release of their eighth studio album, Black and White, which is due out August 30, 2023. mind.in.a.box is unique in that their albums form part of a cohesive storyline. Let's get caught up.
Background behind Revelations
In 2010, three years after mind.in.a.box concluded their Dreamweb trilogy, the band bucked fans' expectations. They abandoned the Dreamweb storyline and released a "special album" called R.E.T.R.O. that celebrated the era of Commodore 64 video games, using vintage chiptune sounds.
I'm not going to cover R.E.T.R.O. here because the purpose of this exercise is to catch up on the Dreamweb storyline. But it should be noted that R.E.T.R.O. contains some of miab's most popular tracks. "8 Bits" is especially fun.
I should also note that at this point in miab's legacy, big things are happening. They've become a live act. I had the incredible opportunity to see them play the Kinetik Festival in Montreal, though travel difficulties forced them to cut their set short and perform without their visuals. Stev had also begun working on a side-project called THYX that lets him experiment with electronic music outside the realm of mind.in.a.box.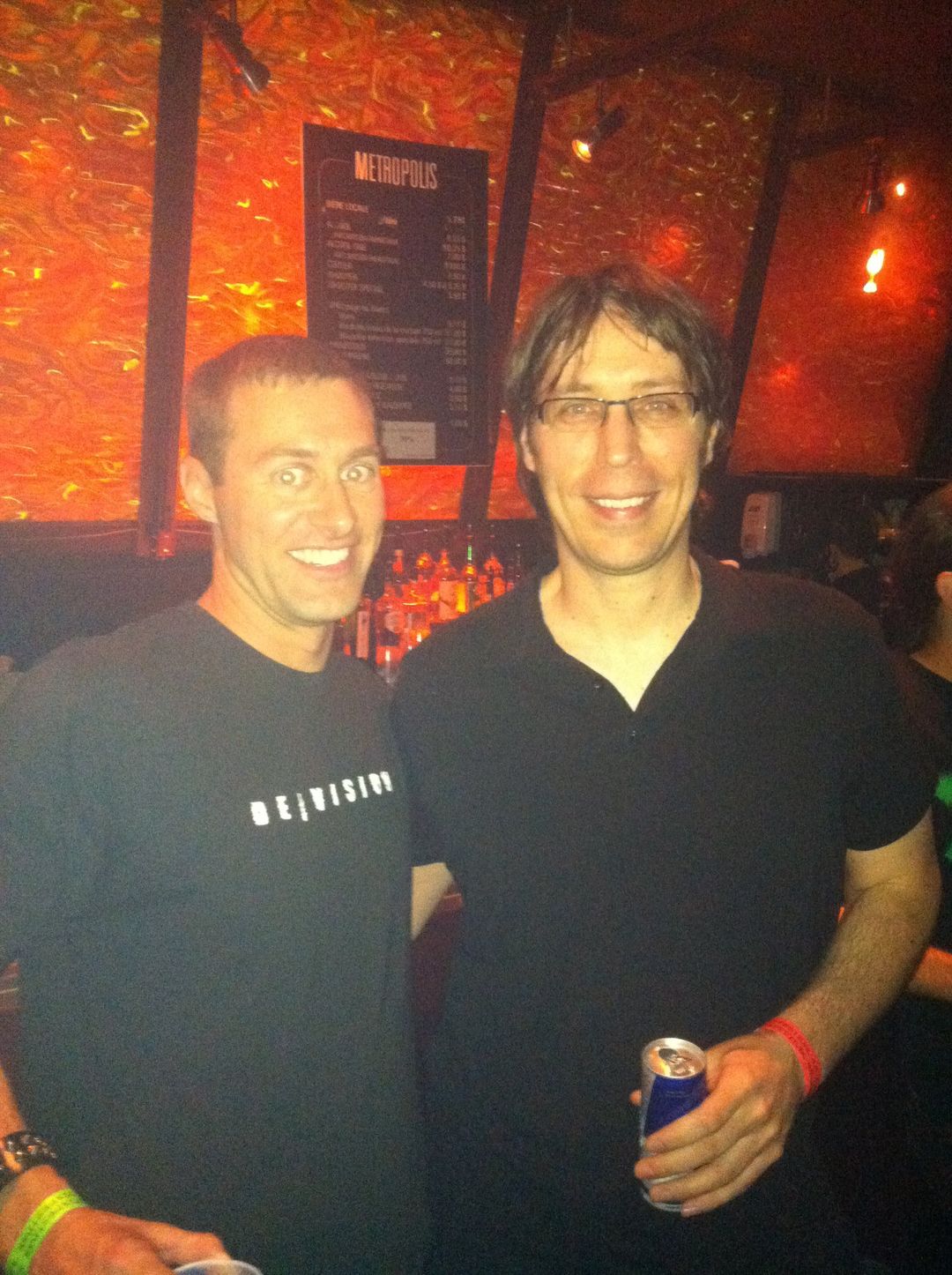 Let's get back to the story of Black and White. In 2012, five years after Crossroads, mind.in.a.box returned to the Dreamweb. The same duo—musician Stefan Poiss and lyricist Markus Hadwiger—is still responsible for their fifth album, Revelations, but much has changed. Stefan has grown more confident as a singer and relying less on vocal effects. Meanwhile, Markus seems less assured about continuing the storyline, which I suspect leads to a big change we'll talk about in a future post.
How the mind.in.a.box storyline progresses
I must admit that Revelations is my least favorite miab album. It lacks big, memorable hooks. And there's far less plot on Revelations than on any other album. Still, we can gather bits of Black's story.
Black sits in the dark and stares. He contemplates his life, remembering his empty self before he encountered the Dreamweb. He questions his choices. He worries he's lost control of himself.
On Crossroads, he made the choice to join the Sleepwalkers, so he returns to Club Pi, searching for them and the Dreamweb. But the place is empty and quiet. He hears music in the alley, and his memory returns in fragments. Most of the stuff he remembers are things we already know about—White, the Friend, Night, the Sleepwalkers—but a few new things emerge. Black looks for a key to the Dreamweb, and he finds a closed train station.
There are two big revelations on Revelations. The first is that mind.in.a.box themselves appear in the story, much like when Stephen King wrote himself into The Dark Tower. Black remembers that they are the name of the band playing in the club or in his head. He realizes that their music is the key to the Dreamweb.
The second is something called the Agency, which we hear about for the first time on record (the Agency may have previously been mentioned in supplemental materials). Black is a former agent of the Agency, and White was his boss. Someone, presumably Night or the Friend, tells Black to meet them in the Dreamweb, and together they will fight the Agency.
What the critics said about Revelations
I Die:You Die: "Revelations feels like a sea change in m.i.a.b's aesthetic almost immediately. Atmospheres are more smokey, more occluded than before, despite the lack of the noir feel the narrative side of the project held on previous releases. While there are trademark m.i.a.b melodic builds, they're nestled in lush lattices of pads and guitars which flesh things out in a new way. We're a long way from the stark, almost clinical feel of Lost Alone." (Full review)
Regen Magazine: "Mind.in.a.Box often borrows from a catalog of sounds that are outlandishly dated in order to build the coherence of their world—an unspecified sci-fi nightmare with its main protagonist plagued by amnesia and paranoia. Albeit consistent throughout, the album does lack a truly unforgettable ending. The last few tracks confirm the downhill tendency in slowly detonating the tension rather than meticulously escalating it." (Full review)
Revelations' standout track
"Control" exemplifies the direction mind.in.a.box is headed in the wake of their Dreamweb trilogy. Stev uses his natural singing voice here to great effect, infusing his words with tremendous emotion. You can feel him grasping for control. The song chugs along a downtrodden beat, rising and falling as further instrumentation fills the spaces. It feels incredibly proggy.