Emerging electro act My Love Kills is getting ready to release its second album, Imitatio Dei, in April. It's a massive double album featuring 19 new songs. You can get a taste of it below.
The album's title is a Latin phrase that means "Imitation of God," a theological concept describing man's obligation to imitate god. The album cover features religious imagery, and several tracks name-check religious subjects like Babylon and purgatory. Should be interesting.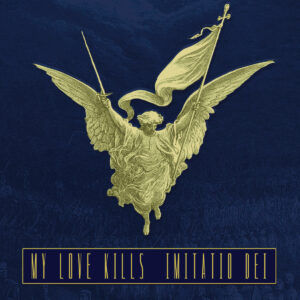 My Love Kills is sort of an industrial supergroup comprised of V.V. Arkames from Ad Inferna and Fredrik Sigeback from Erotic Elk. Their various styles come together nicely to create a sound that falls somewhere between Skinny Puppy-style aggressive electro and present-day futurepop. Their debut album, Glitch, was released last year and contained one of my favorite songs of the year, "Love Is Suffering."
Imitatio Dei will be out digitally on April 21, 2020. Physical copies of the double CD ship out around April 14. You can pre-order it here.
Here is the complete tracklisting:
Silent Scream
Rebirth
Unterwelt
Kingdom of Lost Souls
The new Babylon
La Voisin
Reasons
Black Order Rises
Catatonie
No Remorse
Embrace the Curse
Burn Fire Burn!
Mad Addiction
Deception
Wonderland
The Final Girl
Dead Man Walking
Delusion
Ante-Purgatory
Listen to 3 tracks from Imitatio Dei
So far, we've heard three songs from Imitatio Dei, including the excellent lead single, "Silent Scream," which was released with a lyric video on Youtube. The other two preview tracks, "La Voisin" and "Embrace the Curse," are available for immediate download at Bandcamp when you pre-order the album.
Listen to the Kingdom of Lost Souls EP
My Love Kills has released another teaser from their upcoming album, Imitatio Dei. It's a 3-track EP called Kingdom of Lost Souls.
You can find it on Bandcamp and Spotify.
The EP features the title track, "Kingdom of Lost Souls," and two unreleased tracks. "The Orange Man" contains samples of President Trump!